Community transport (CT) is a community-led solution to unmet local transport needs. In a rural county like Oxfordshire, the 75+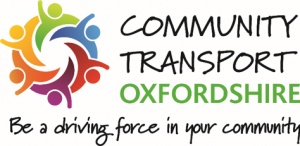 minibus and car schemes provide flexible and accessible transport services for many vulnerable and isolated people who otherwise have no other accessible or affordable means of accessing basic services. They are run mostly by volunteers – some are charities, and some are social enterprises. Community transport can be created for anyone to use!
LOOKING FOR A SCHEME IN OXFORDSHIRE? LOOK IN THE CT DIRECTORY 
PLEASE NOTE – the above document is currently out-of-date. CFO are working with Oxfordshire County Council to rectify this.
CFO has supported CT for over 30 years. We continue to offer support, advice, and advocacy at a local level to raise the importance of the 1300 volunteers involved in CT in Oxfordshire by:
Supporting Oxfordshire's existing CT schemes
Helping develop and mentor new CT schemes
Facilitating CT network meetings
Supporting the role of Parish Transport Representatives in the county
Supporting the use of transport needs surveys
Brokering free volunteer driver parking in OU hospitals and managing the OCTA hospital parking permit system
Offering umbrella Public Liability Insurance for volunteer car schemes
Circulating best practice advice from the Community Transport Association UK
Working with partners such as the Oxfordshire County Council to get the best outcome for community transport schemes
Advocating for community transport volunteers and users