Community First Oxfordshire is 100 years old!
World War One had a radical impact on people and communities. Those who had given so much deserved, and demanded, better lives than they had before. One contribution to this movement to improve the common good was the founding of Oxfordshire Rural Community Council (the former name for CFO) on 8 October 1920.
To celebrate this auspicious milestone, we've put together a new publication – A Century of Supporting Communities.
From 1920 to 2020 – a whistle-stop tour…
In his Sidney Ball lecture in Oxford in 1920, Sir Horace Plunkett said, "New ideas are stirring in the countryside, men who have come back to service across the sea, women who have come back from work in munition factories have learnt a new independence and a new vision… I appeal to the University of Oxford… to provide a larger leadership – a wider vision of better living as well as better farming and better business in our countryside".[1]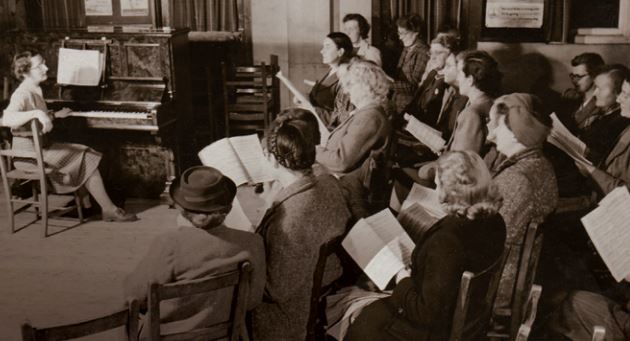 ORCC was the first rural community council in England. In its early days it had an 'improving' mission, focusing on arts and literature, public libraries and providing other services for 'country folk' in their own communities.
We can still hear the echoes of the past in rural communities today. Better housing and access to services were early aspirations for CFO and remain so today. But in these 100 years, life in rural communities has changed dramatically. Health has got better and housing has improved (even if affordability remains a major issue). Technological advance has brought electricity and indoor lavatories, phones and then mobile phones (though network coverage can still be patchy!), broadband… Our horizons stretch much further than the next village or market town, via the internet we can sit in our homes and access people and goods from all over the world. Cars take us to work and services that are no longer provided locally. The myriad of local shops, pubs, banks and other services of decades past are harder to find. Reductions in public investment is one reason, personal choice another, the rise in online ordering contributing to the decline of local services for example. We have lost local train stations and bus routes – a change which now needs to be urgently reversed as we strive to reduce car use to meet the climate emergency.
Yet if there has been one constant across the 100 years of CFO's existence it has been the periodic, doom-laden pronouncement of the end of rural communities… but our communities are still here. Another constant is change, and change can be negative or restorative, and often the former leads to the latter. There are clearly huge challenges but there is much to celebrate in our rural communities and, as ever, huge resilience.
We have more people working from home in Oxfordshire than most other counties. There are many new social enterprises and micro businesses emerging where 'local' is the USP. There is an extraordinary and inspiring amount of community-based action happening across the county, from Good Neighbour Schemes and climate action groups to renewable energy coops, community-led housing groups, environmental initiatives and arts projects. There is an increasing number of community owned pubs and shops.
All of this tells us that community is vital to us – we want to feel connected and rooted, to be part of a 'place in space'. And we need to make sure that community is equally accessible to all and not just the few.
It's quite an amazing to be able to say that we work for an organisation that is 100 years old. And despite the many changes this organisation has gone through we retain a strong vision of the rural communities we want to see and continue to offer advice and support to help people put together the many jigsaw pieces that make a thriving community.
From day-to-day advice about running a community hall to advocating for truly affordable housing and supporting local responses to the climate emergency, CFO has so much more to do to help communities help themselves. But for now, we want to say "thank you" to all of Oxfordshire communities for leading and inspiring.
When you want to do something, you do!
Emily Lewis-Edwards and Tom McCulloch, joint CEOs
[1] The story of the Oxfordshire Rural Community Council 1920-1970