Bletchingdon Village Hall played host to our joint conference and relaunch event last Friday, 6 November. This also marked the day when we officially became Community First Oxfordshire (rather than ORCC).
The conference was attended by over 90 delegates, including representatives from numerous Parish Councils, the Lord Lieutenant, the Bishop of Dorchester and officers from the County and District councils. They heard our guest speakers talk about the current issues affecting Oxfordshire's communities and were given the opportunity to ask questions, network and visit our information stalls.
Jonathan Reuvid, the Chairman, welcomed the 90 guests and explained why ORCC had decided to change its name to Community First Oxfordshire. Jon Bright, CEO, outlined what had been achieved in the past year and set out the charity's strategy for the year ahead.
Cllr Barry Wood, Leader of Cherwell District Council, then spoke about housing growth and the facilities needed to help new communities thrive. He drew on recommendations made in the study Community First had undertaken for Cherwell. These included: involving communities in planning new developments; co-locating community facilities in 'community hubs'; providing a temporary meeting place at an early stage and appointing Community Builders to support new community groups.
He was followed by Maggie Scott, Chief Policy Officer for Oxfordshire County Council. Maggie explained the budget reductions the County Council was considering and spoke about the important contribution the voluntary and community sector can make to help communities meet their challenges and build resilience.
Rachel Coney, CEO Health Watch Oxfordshire was the final speaker. Rachel explained Health Watch's role and described two projects her organisation had supported. The first was funding Community First Oxfordshire's report on Dementia Friendly Communities; the second, Age UK's report on Dignity in Care.
Following a Q&A session chaired by Glyn Evans, our President, Jonathan Reuvid closed the formal part of the conference and invited participants to network and talk to Community First staff about their work.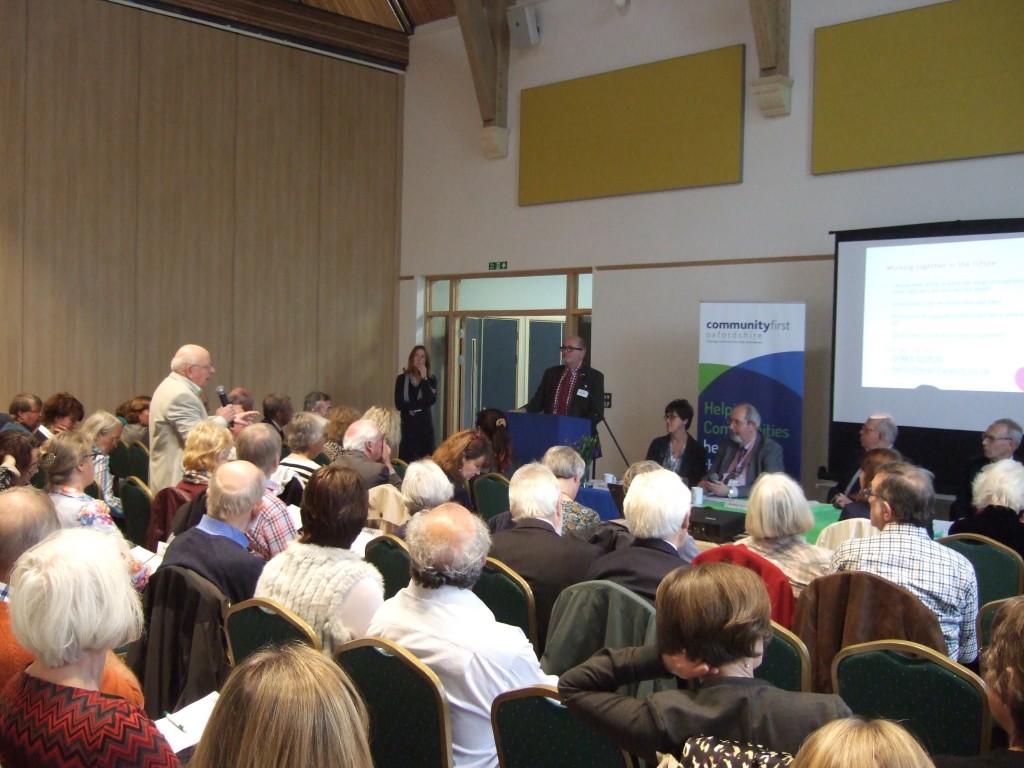 View the presentations from our guest speakers
Presentations were given by the following guest speakers:
Cllr Barry Wood, Leader of Cherwell District Council 'New housing developments: role of the voluntary and community sector.'
Maggie Scott, Chief Policy Officer at Oxfordshire County Council: 'Challenges (or opportunities?).'
Rachel Coney, CEO Healthwatch Oxfordshire 'An ageing population: importance of community support.'
Their presentation slides can be viewed below.
Looking to the future as Community First Oxfordshire
Since 1920 we have been known as ORCC (Oxfordshire Rural Community Council). We believe that the new name, logo and website help to reinforce our new scope and direction.
We will continue to deliver our long-standing services to rural communities but will be continuing to extend our reach into urban Oxfordshire. Time's are changing- we have adapted to a challenging environment by reducing costs, building partnerships and developing new services, supported by a team of specialist Associates.