A Community Led Plan helps you identify your community's vision for growth and sustainability, create an action plan and take action together to make your local area a better place…
Community First Oxfordshire (CFO) is the lead Community Led Planning (CLP) service provider working with parish, district and county councils to support communities across Oxfordshire in doing CLP's. Community First Oxfordshire has been supporting community plans for many years. Our experienced team has worked with over 100 communities across Oxfordshire. Click here for sample CLP's.
How CFO can help you…
Our CLP support service offers your community:
an experienced facilitator to support  you with the  structured CLP process, either aspects of the full nine modular steps or a condensed version
co-hosting launch events to galvanise active citizenship for all ages across your community, including with young people
motivating volunteers and helping communities to get started with a community plan
technical support with community engagement
questionnaire design, data entry and processing for surveys
action plan writing
practical advice to implement community actions
funding advice
signposting ways that your district and county council as well as other agencies can offer additional support
Who to contact…
Community First Oxfordshire can help with all aspects of a Community Led Plan.
Would you like more information about our CLP service?
Are you keen to set up an initial CLP meeting to discuss a CLP in your community?
Would you like some help with accessing the CLP resources?
Rachel Woods, Facilitator(CLP) and Trainer for CFO,  is your contact point for Community Led Planning.  Please email [email protected]  or phone 01865 883488
Click on the following links for more information about 
 A Community Led Plan (also called Village Appraisals, Parish Plans and Market Town Healthchecks) sets out a vision of how your community wants to develop and identifies the action needed for you to achieve it.
The step-by-step process is structured to support and empower your community to identify and address a range of different social, economic, environmental and cultural issues.
You can plan to achieve anything from organising regular litter picks, buying a defibrillator for a community building, setting up a homework club, through to addressing housing development.
A  structured process
CFO offers a structured CFO modular process for your community to:
research and identify the most important local issues.
use this evidence to develop a detailed plan of action for bringing about specific improvements.
come together, develop a shared understanding and agree on a range of actions that can be delivered for the benefit of everyone locally.
Using the ACRE CLP framework is a helpful way to prepare your community to take advantage of the 'rights' introduced in 2012 by the government, including 'Community Right to Buy and Neighbourhood Planning.'
Thousands of communities  have produced CLP's 
If you choose to develop a Community Led Plan for your area, you will be following in the footsteps of over 4,000 other communities nationwide that have produced similar plans since the late 1970s.
In 2001 the Government initiated the CLP concept with local authorities as a way of getting communities to create a grass-roots movement to do more for themselves unencumbered by red tape.
This Wordle cloud illustrates a range of issues addressed by eleven Oxfordshire communities, who  in just one year (from Aug 2015 to July 2016)  completed CLP's that set out over 245 community actions covering a wide range of issues. Larger font indicates that the issue comes up more frequently.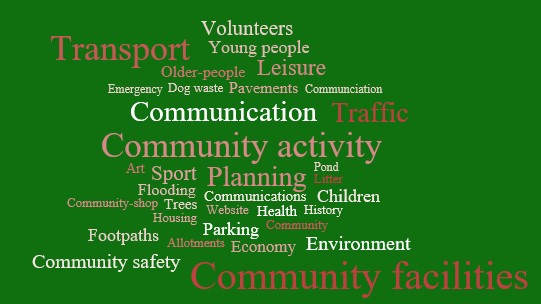 These eleven communities are: Charney Bassett, Burcot and Clifton Hampden, Fringford, Horton-cum-Studley, Letcombe Regis, Milton, Stadhampton, Sutton Courtenay, Uffington, Woolstone and Baulking, Watchfield, West Hendred. View these CLP's here.
Will your parish council  have to pay for a CLP?
A free service is provided by Community First Oxfordshire, funded by your District Council,  for communities in:
South Oxfordshire
Vale of White Horse
Cherwell districts
Click here to access more information on District and Town Council support for Community Led Plans.
Grant support is also available for Cherwell and South and Vale District  these communities from their District Councils, which is administered by Community First Oxfordshire.
A consultancy based service is offered to all other communities  which is tailored to meet your needs and keep costs down.